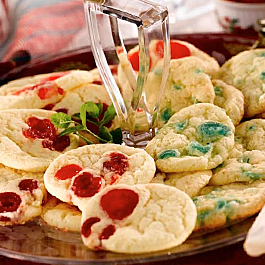 Courtesy of The incredible edible egg™
Servings: 36
Prep Time: 15 Min.
Cook Time: 15 Min.
Chill Time: 2 Hrs.
* 1 c. sugar
* 1/2 c. butter or margarine
* 1 egg plus 3 egg yolks
* 1 tsp. vanilla
* 3 c. self-rising flour
* 1/2 c. candied red or green cherries
1. Cream together sugar and butter; beat in egg, yolks and vanilla. Add flour; mix thoroughly. Stir in cherries.
2. Divide dough in half and place dough on sheets of waxed or parchment paper. Using waxed paper or parchment paper and your hands, carefully shape into two rolls, 1" by 12". Wrap in freezer wrap. Place rolls on cookie sheet and freeze until ready to bake.
3. Peel paper off cookie rolls. Slice cookies into 1/4" slices and place on cookie sheet. Bake cookies in a preheated 350°F oven for 12-15 min. or until lightly browned.

**May also add 1 c. chopped toasted nuts to dough if desired.

"For more ways to enjoy The incredible edible egg™, visit incredibleegg.org"
Calories: 95;
Total Fat: 3g;
Total Carbs: 15g;
Protein: 1g;
Sodium: 161mg;