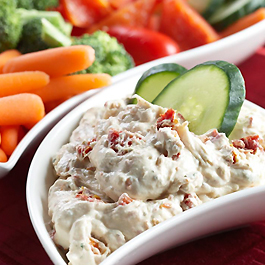 Courtesy of The Soyfoods Council
Servings: 8
Prep Time: 10 Min.
Cook Time: n/a
Chill Time: 1 Hr.
* 8 oz. soft tofu
* 1 pkg. (8 oz.) cream cheese, softened
* 1 pkg. (1 oz.) ranch seasoning dressing mix
* 1/3 c. chopped, drained, marinated sun dried tomatoes
* 1 tsp. dried minced onion
* 1/4 tsp. garlic powder
* vegetable dippers or crackers



1. Blend or process tofu until smooth. In a medium bowl combine blended tofu, softened cream cheese, and seasoning mix until smooth. Stir in chopped tomatoes, dried onion, and garlic powder. Cover and chill 1 hr. Serve with vegetable dippers or crackers.

Makes 2 cups dip.