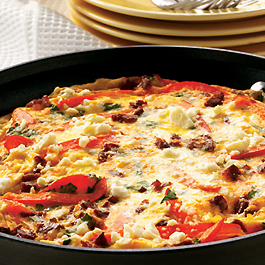 Courtesy of The incredible edible egg™
Servings: 6
Prep Time: 10 Min.
Cook Time: 20 Min.
* 6 oz. fresh chorizo sausage, casing removed
* 1 red bell pepper, thinly sliced
* 12 eggs, beaten
* 1/4 c. chopped fresh cilantro or parsley
* 4 oz. queso fresco, crumbled (fresh goat cheese or a mild feta can be substituted)
1. Coat large nonstick skillet with ovenproof handle with cooking spray. Cook chorizo over medium heat, breaking into crumbles, until browned and cooked through, about 5 min. Pour off drippings. Add bell pepper to skillet; sauté until softened, 3 to 4 min.
2. Pour in eggs; mix lightly and sprinkle with cilantro. Gently scramble eggs over medium heat 1 min. Cover and cook until eggs are almost set, 6 to 8 min.
3. Uncover skillet; sprinkle with cheese. Broil 6 in. from heat until eggs are completely set in center, 2 to 3 min. Cut into wedges.

Note:
-To make handle ovenproof, wrap it completely in aluminum foil.
-3 oz. cured chorizo sausage link, finely chopped can be substituted for fresh chorizo. Sauté just until heated through, about 1 minute.
-Queso fresco is a fresh crumbly Mexican cheese. A fresh goat cheese or a mild feta can be substituted.

"For more ways to enjoy The incredible edible egg™, visit incredibleegg.org"
Calories: 306;
Total Fat: 22g;
Saturated Fat: 8g;
Cholesterol: 454mg;
Total Carbs: 4g;
Fiber: 0g;
Protein: 22g;
Sodium: 516mg;