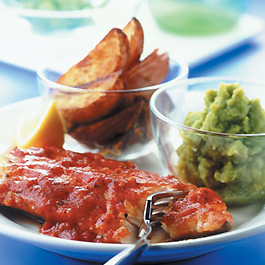 Courtesy of UK Seafish Authority
Serve With:
Peas and lemon wedges.
Servings:
6
Prep Time:
10 Min.
Cook Time:
45 Min.
* 6 (6 oz. each) coley, haddock or amberjack fillets
* 2.29 oz. packet Cajun Chicken and Southern Fried Seasoning
* 1 1/4 c. water
* 4-5 large potatoes, washed and cut into wedges
* 2 Tbsp. vegetable oil
1. Preheat the oven to 425°F.
2. Lay potatoes on a baking tray. Coat with oil and half the seasoning.
3. Bake for 25 min.
4. Place the fillets in a shallow ovenproof dish.
5. Add water to the Cajun mix. Pour the Cajun liquid over the fish.
6. Bake for 20 min.
7. Serve fish and chips with peas and lemon wedges.

Courtesy of Seafish, the UK Sea Fish Industry Authority www.seafish.org

"From sea to plate, Seafish delivers expert knowledge, skills and support which help the UK seafood industry secure a sustainable and profitable future."