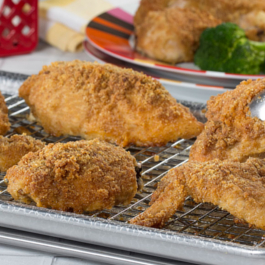 Courtesy of Mr. Food Test Kitchen
Servings: 4
Prep Time: n/a
Cook Time: 60 Min.
* 1 c. bread crumbs
* 1/2 c. grated Parmesan cheese
* 1/2 tsp. paprika
* 1 tsp. salt
* 1/4 tsp. black pepper
* 1 stick (1/2 cup) butter, melted
* 2 clove garlic, minced
* 1 (4-pound) chicken, cut into eighths
1. Preheat oven to 350°F. Coat a baking sheet with cooking spray.
2. In a shallow dish, combine bread crumbs, Parmesan cheese, paprika, salt, and pepper; mix well. In another shallow dish, combine butter and garlic.
3. Dip chicken into garlic butter, then into bread crumb mixture, coating evenly on all sides. Place on baking sheet and drizzle with remaining garlic butter.
4. Bake 1 hour, or until crispy and no longer pink in center.

Recipe and Image from the Mr. Food Test Kitchen
© 2018 Ginsburg Enterprises Incorporated. All rights reserved.