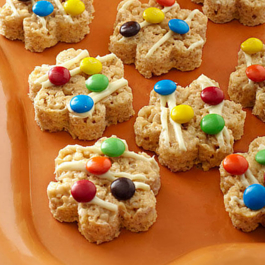 Courtesy of Kraft Kitchens
Servings: 24
Prep Time: 30 Min.
Cook Time: 1 1/2 Min.
* 6-2/3 c. JET-PUFFED Miniature Marshmallows (10-1/2-oz. pkg.)
* 1/2 c. creamy peanut butter
* 1/4 c. butter
* 6 c. KELLOGG'SŪ RICE KRISPIESŪ cereal
* 2 oz. BAKER'S White Chocolate, melted
* 1/2 c. candy-coated chocolate pieces
1. Microwave first 3 ingredients in large microwaveable bowl on HIGH 1-1/2 min. or until marshmallows are completely melted and mixture is well blended, stirring after 45 sec. Add cereal; mix well.
2. Press onto bottom of 13x9-inch pan sprayed with cooking spray. Drizzle with melted chocolate.
3. Decorate with chocolate pieces, pressing gently into cereal mixture to secure. Cool completely. Cut into desired shapes with cookie cutters.