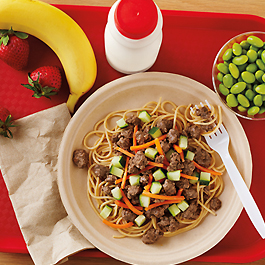 Courtesy of The Beef Checkoff
Servings: 4
Prep Time: 15 Min.
Cook Time: 15 Min.
* 1 lb. ground beef (93% lean or leaner)
* 1/4 c. water
* 3 Tbsp. reduced fat creamy peanut butter or regular sunflower seed butter
* 2 Tbsp. reduced-sodium soy sauce
* 2 Tbsp. fresh lime juice
* 3/4 tsp. garlic powder
* 3/4 tsp. ground ginger
* 1/8-1/4 tsp. crushed red pepper
* baked wonton wrappers (optional)

Toppings:
* Red bell pepper strips, shredded carrots, cucumber slices, sliced green onion, sliced fresh pea pods, sliced basil or cilantro leaves, shelled edamame, pickled ginger, lime wedges
1. Heat large nonstick skillet over medium heat until hot. Add ground beef; cook 8-10 min., breaking into 1/2-in. crumbles and stirring occasionally. Remove drippings.
2. Meanwhile, combine water, peanut butter, soy sauce, lime juice, garlic powder, ground ginger and red pepper.
3. Stir peanut butter mixture into beef. Continue to cook over medium heat 2-3 min. or until heated through, stirring occasionally.
4. Evenly divide beef mixture over six wonton triangles, if desired. Garnish with toppings, as desired.

* Test Kitchen Tips:
Cooking times are for fresh or thoroughly thawed Ground Beef. Ground Beef should be cooked to an internal temperature of 160°F. Color is not a reliable indicator of Ground Beef doneness.
Calories: 259;
Total Fat: 13g;
Saturated Fat: 4g;
Cholesterol: 76mg;
Total Carbs: 7g;
Fiber: 1g;
Protein: 28g;
Sodium: 455mg;