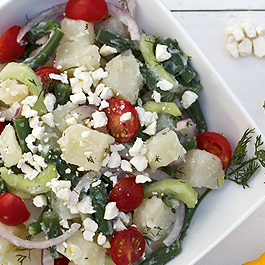 Courtesy of Idaho Potato Commission
Servings: 8
Prep Time: 15 Min.
Cook Time: 14 Min.
* 4 medium IdahoŽ Potatoes, peeled and cut into 1/2-in. chunks
* 8 oz. green beans, stem ends trimmed, cut into 1-in. lengths
* 3/4 c. buttermilk
* 2 Tbsp. extra virgin olive oil
* 1/2 tsp. grated lemon zest
* 1 Tbsp. fresh lemon juice
* 1/2 tsp. salt
* 1 large cucumber, peeled, halved lengthwise, seeded and thinly sliced
* 1 c. cherry tomatoes, halved
* 1 medium red onion, halved and thinly sliced
* 1/4 c. snipped fresh dill
* 4 oz. feta cheese, crumbled
1. In a large pot of boiling salted water, cook potatoes about 12 min., until crisp-tender. Add green beans and cook 2 min. longer. Drain well.
2. Meanwhile, in a large bowl, whisk together the buttermilk, olive oil, lemon zest, lemon juice, and salt. Add potatoes and green beans and toss gently to coat.
3. Add cucumber, tomatoes, red onion and dill; tossing gently. Cool to room temperature. Serve at room temperature or cover and refrigerate until serving time. At serving time, spoon onto serving plates and sprinkle the feta over.

* Recipe courtesy of Idaho Potato Commission.
Calories: 331;
Total Fat: 14g;
Cholesterol: 30mg;
Total Carbs: 43g;
Protein: 11g;
Sodium: 644mg;