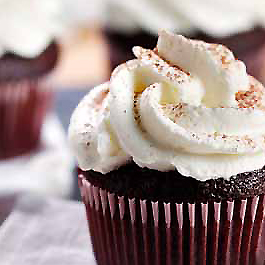 Courtesy of CanolaInfo
Servings: 24
Prep Time: 15 Min.
Cook Time: 20 Min.
Cupcakes:
* 2-1/2 c. granulated sugar (625 mL)
* 2-1/4 c. flour (560 mL)
* 1 c. cocoa powder (250 mL)
* 1 tsp. baking soda (5 mL)
* 1 tsp. baking powder (5 mL)
* 1/4 tsp. salt (1 mL)
* 1 c. canola oil (250 mL)
* 3 eggs
* 2-1/4 c. hot water (560 mL)

Sweetened Whipped Cream Frosting:
* 3 c. heavy cream (ice cold) (750 mL)
* 3 Tbsp. powdered sugar (45 mL)
* 1-1/2 tsp. vanilla (7 mL)
1. Pre-heat oven to 350°F (180°C). Line muffin tin with 24 cupcake liners.
2. In large bowl, combine sugar, flour, cocoa powder, baking soda, baking powder and salt.
3. In separate bowl, whisk canola oil and eggs. Slowly add oil mixture to dry mixture, followed by hot water. Mix until fully combined, making sure to scrape sides of bowl with spatula to get out all lumps.
4. Spoon or pour mixture into cupcake liners until two-thirds full.
5. Bake for 15 min. then rotate pan and bake for another 5-8 min. or until cupcakes spring back to touch. Remove from oven and cool cupcakes completely.
6. To prepare Sweetened Whipped Cream Frosting: In medium bowl, whisk heavy cream on medium-high speed. Slowly add powdered sugar and vanilla. Mix on high speed until soft firm peaks form. Scoop whipped cream into pastry bag with star tip and pipe whipped cream on top of cooled cupcakes. Dust lightly with cocoa powder. Serve right away or refrigerate until serving.

Yield: 24 cupcakes. Serving size: 1 cupcake with frosting.

* Recipe courtesy of CanolaInfo.
Calories: 280;
Total Fat: 16g;
Saturated Fat: 5g;
Cholesterol: 45mg;
Total Carbs: 33g;
Fiber: 1g;
Sugar: 22g;
Protein: 3g;
Sodium: 110mg;
Potassium: 94mg;