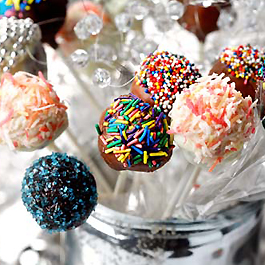 Courtesy of CanolaInfo
Servings: 32
Prep Time: 50 Min.
Cook Time: 25 Min.
Chill Time: 30 Min.
Brownies
* parchment paper
* canola oil spray
* 1/2 c. canola oil (125 mL)
* 1-1/4 tsp. vanilla extract (6 mL)
* 2 eggs
* 1/2 c. all-purpose flour (125 mL)
* 1-1/4 c. granulated sugar (310 mL)
* 2/3 c. cocoa powder (150 mL)
* 1/4 tsp. baking powder (1 mL)
* 1/2 tsp. salt (2 mL)
* 1/2 c. semisweet chocolate chips (125 mL)

Pops
* 2 c. milk chocolate chips (500 mL)
* 1 tsp. canola oil (5 mL)

Optional Toppings
* candy sprinkles
* chopped peanuts
* coconut flakes
* mini chocolate chips

Special equipment
* 32 candy/lollipop sticks (6-in./15-cm)
* plastic foam block to hold pops upright
1. Preheat oven to 325°F (160°C). Line bottom and sides of 9 X 9-in. (22 x 22 cm) baking pan with parchment paper or foil. Leave about 4-in. (10 cm) of overhang on two opposite sides. These serve as handles to remove brownies from pan in one piece, so there should be enough overhang to have a solid grip. Spray parchment or foil with canola oil.
2. In medium bowl, mix together canola oil, vanilla and eggs until fully combined. In large, separate bowl, whisk flour, sugar, cocoa, baking powder and salt together. Slowly whisk liquid ingredients into dry ingredients, stirring constantly. Fold in chocolate chips. Spread brownie batter evenly in lined pan.
3. Bake for 20-25 min. Cool completely on rack. Remove from pan and trim off any overly crusty parts.
4. Line baking sheet with parchment paper. Melt milk chocolate chips in double boiler. Add canola oil and stir until smooth. Dip one candy/lollipop stick into melted chocolate (this will help brownie adhere better to stick). Scoop up about 1 Tbsp. (15 mL) of brownie. Form brownie onto stick, making sure brownie is nice, round and secure. Immediately after molding it to stick, dip pops one at a time into melted chocolate. Allow some chocolate to get onto sticks to help keep them secure. Dip into different toppings as desired. Place sticks into plastic foam block to keep them upright as they set.
5. Once all pops are finished, place in refrigerator for about 30 min. to set. When finished, store in an airtight container in refrigerator or cool place for up to one week.

* White or semisweet chocolate can be substituted for milk chocolate as the lollipop coating. With white chocolate, you can use 2 drops of food coloring to change the color of pops.

* Recipe courtesy of CanolaInfo.
Calories: 140;
Total Fat: 8g;
Saturated Fat: 2g;
Cholesterol: 10mg;
Total Carbs: 19g;
Fiber: 1g;
Sugar: 15g;
Protein: 1g;
Sodium: 45mg;