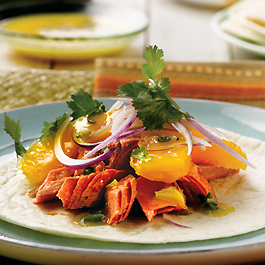 Courtesy of Alaska Seafood Marketing Institute
Servings: 4
Prep Time: 10 Min.
Cook Time: 20 Min.
* 1 clove garlic, chopped
* 1 serrano chile, seeded and chopped
* 2 Tbsp. olive oil, divided
* 2 Tbsp. water
* 2 Tbsp. frozen orange juice concentrate
* 4 Alaska salmon fillets (4 to 6-oz. ea.), fresh, thawed or frozen
* salt and pepper, to taste
* 8 small (6 to 7-in.) flour tortillas, warmed
* 2 large, navel oranges, peeled, pithed and segmented
* 1/2 c. thinly sliced red onion
* 1 c. fresh cilantro leaves
1. Combine garlic, chile and 1 Tbsp. oil in a heavy nonstick skillet. Sauté over medium heat until garlic and chile are soft. Remove pan from heat; place garlic and chile in a small bowl. When cool, add water and juice concentrate; blend.
2. Rinse any ice glaze from frozen Alaska Salmon under cold water; pat dry with paper towel. Return skillet to medium-high heat. Brush both sides of salmon with remaining oil. Place fillets in heated skillet and cook, uncovered, about 3 to 4 min., until browned. Shake pan occasionally to keep fish from sticking.
3. Turn fillets over and season with salt and pepper. Cover pan tightly and reduce heat to medium. Cook an additional 6 to 8 min. for frozen salmon or 3 to 4 min. for fresh/thawed fish. Cook just until fish is opaque throughout. Remove skin, if any, and break fish into large chunks.
4. To serve, divide salmon among tortillas. Top with 2 to 3 orange slices, 1 Tbsp. red onion slices, 2 Tbsp. cilantro leaves and 1/2 Tbsp. chile-citrus sauce.
Calories: 596;
Total Fat: 31g;
Saturated Fat: 5g;
Cholesterol: 104mg;
Total Carbs: 40g;
Protein: 40g;
Sodium: 747mg;